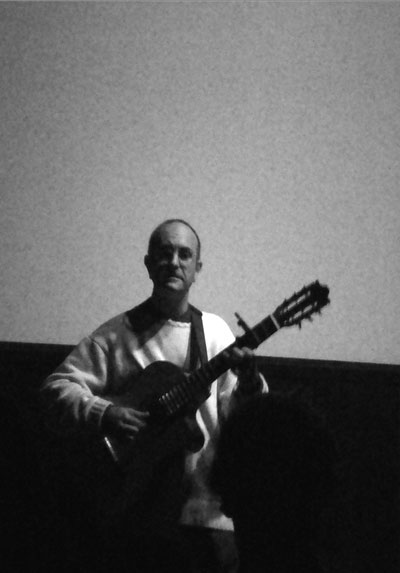 Cucalorus Film Festival, Willmington, North Carolina
November 2010 – I Was a Mill
INDUSTRIAL POST-INDUSTRIAL 
Video
Dur. 59 sec.
FORMICHE (2007/2010)
Video
Dur. 1 min.
I WAS A MILL
Canzone, voce, strumenti
2'11"
THE MAKING OF THE WALBRZYCH NOTEBOOK
Video
30'00"
THE WALBRZYCH NOTEBOOK (2004/2010)
Video
71'35"
LO-FI STUDIES FOR PIANO SOLO
Per pianoforte su nastro
9'59"
CLUB MUSIC (2009/2010)
Per flauto, violino, violoncello e percussioni
about 11 min.
MATTINO (2003/2010)
Canzone – voci e strumenti
2'25"
PER MANO CONDUCO MATILDE NEI CAMPI (2003/2010)
Canzone – voci e componium
4'37"
---
Pubbliche esecuzioni
29 dicembre, Deutschlandradio Kultur, Wurfsendung: ES WAR EINMAL – Rotkäppchen
28 novembre, Deutschlandradio Kultur, Wurfsendung: THE FRANKENSTEIN SESSIONS – Scarlattiblues Africhinensis
23 novembre, Deutschlandradio Kultur, Wurfsendung: THE FRANKENSTEIN SESSIONS – Rachmanindù Circensis
20 novembre, Deutschlandradio Kultur, Wurfsendung: THE FRANKENSTEIN SESSIONS – Rachmanindù Circensis
19 novembre, Lucca, Teatro di San Girolamo, Lucca Invoce – Fonema: CANZONI NATURALI VI, LA CITTA' DEI CARILLONS II, FINE DEL MESSAGGIO (Senza Parole), DIALOGHI (Estratto), I WAS A MILL (Conferenza)
17 novembre, Deutschlandradio Kultur, Wurfsendung: THE FRANKENSTEIN SESSIONS – Caledonian Piazzollakepalmer
15 novembre, Wilmington (NC), Cucalorus Film Festival: I WAS A MILL (esecuzione dal vivo, I WAS A MILL (video)
15 novembre, Deutschlandradio Kultur, Wurfsendung: THE FRANKENSTEIN SESSIONS – Turkromanza Relisgiosa
14 novembre, Wilmington (NC), Cucalorus Film Festival: I WAS A MILL (esecuzione dal vivo, I WAS A MILL (video)
13 novembre, Wilmington (NC), Cucalorus Film Festival – The Audible Picture Show: Sonic Pages (I)
12 novembre, Wilmington (NC), Cucalorus Film Festival: I WAS A MILL (video)
11 novembre, Deutschlandradio Kultur, Wurfsendung: ES WAR EINMAL – Der goldene Fisch
7 novembre: Deutschlandradio Kultur, Wurfsendung: THE FRANKENSTEIN SESSIONS – Industrial Chorale from North Carolina
3 novembre, Firenze, Cinema Odeon – Festival 50 Giorni: PALUDE DEL DIAVOLO, DIALOGHI (framm.) THE FRANKENSTEIN SESSIONS (framm.), PRIME ALI, BOLLE (video, framm.), IL CARNEVALE DI ANTONIO, PICCOLI SEGRETI, FORMICHE, I WAS A MILL (video.), CHIAYI SYMPHONY (framm.), THE WALBRZYCH NOTEBOOK (framm.)
29 ottobre, SWR – Das Hörspiel vom Hörspiel (Michael Grote) THE FRANKENSTEIN SESSIONS (framm.)
25 ottobre, Deutschlandradio Kultur, Wurfsendung: THE FRANKENSTEIN SESSIONS – Beethoyodel Brazileiro
23 ottobre, Lucca, Sala Tobino – Cluster Compositori Europei: I WAS A MILL (dal vivo), CADUTA MASSI, BOLERO, PALUDE DEL DIAVOLO, TEMA DEI CAMPI, PER MANO CONDUCO MATILDE, IL GIARDINO DISINCANTATO (Osservatorio delle Terre Emerse – OTEME)
20 ottobre, Deutschlandradio Kultur, Wurfsendung: ES WAR EINMAL – Rotkäppchen
15 ottobre, Deutschlandradio Kultur, Wurfsendung: THE FRANKENSTEIN SESSIONS – Johann Sebalintillimetallicus
12 ottobre, Lubljuana, Spectrum Festival: Rap Secondo (Guido Arbonelli)
8 ottobre, Deutschlandradio Kultur, Wurfsendung: THE FRANKENSTEIN SESSIONS – Beethoyodel Brazileiro
7 ottobre, Deutschlandradio Kultur, Wurfsendung: THE FRANKENSTEIN SESSIONS – Feldmanodontis Pinkfloyderopterix Cubano
5 ottobre, Deutschlandradio Kultur, Wurfsendung: THE FRANKENSTEIN SESSIONS – Salsaragapterus
5 ottobre, Lucca, Lucca Film Festival: I WAS A MILL (video)
26 settembre, Deutschlandradio Kultur, Wurfsendung: ES WAR EINMAL – Aschenputtel
21 settembre, Deutschlandradio Kultur, Wurfsendung: THE FRANKENSTEIN SESSIONS – Turkromanza Religiosa
20 settembre, Deutschlandradio Kultur, Wurfsendung: THE FRANKENSTEIN SESSIONS – Procolavemariafricanis Tarantellatinus
18 settembre, New York – The Lat Supper Festival: 59 Memories About Landscape And People
15 settembre, Deutschlandradio Kultur, Wurfsendung: THE FRANKENSTEIN SESSIONS – Turkromanza Religiosa
9 settembre – 10 ottobre, Ekaterinburg (Russia), Kamvolnyi Kombinat – First ural Biennial: Industrial Post Industrial (Video, Project 59)
8 settembre, St. Petersburg (FL-U.S.A.) – Strasbourg International Film Festival / Nomadic Tendencies: THE WALBRZYCH NOTEBOOK
29 agosto, Crest (Drome, Francia), Festival Futura: CHIAYI SYMPHONY
28 agosto, Crest (Drome, Francia), Festival Futura: CHIAYI SYMPHONY
27 agosto, Crest (Drome, Francia), Festival Futura: CHIAYI SYMPHONY
26 agosto, Crest (Drome, Francia), Festival Futura: CHIAYI SYMPHONY
26 agosto, Crest (Drome, Francia), Festival Futura: CHIAYI SYMPHONY
20 agosto, Deutschlandradio Kultur, Wurfsendung: THE FRANKENSTEIN SESSIONS – Turkromanza Religiosa
20 agosto, Deutschlandradio Kultur, Wurfsendung: THE FRANKENSTEIN SESSIONS – Turkromanza Religiosa
14 agosto, Deutschlandradio Kultur, Wurfsendung: THE FRANKENSTEIN SESSIONS – Turkromanza Religiosa
13 agosto, Deutschlandradio Kultur, Wurfsendung: THE FRANKENSTEIN SESSIONS – Caledonian Piazzollakepalmer
13 agosto, Berlino, Kino Toni & Tonino, GLOBIANS doc filmfest: THE WALBRZYCH NOTEBOOK
12 agosto, Deutschlandradio Kultur, Wurfsendung: THE FRANKENSTEIN SESSIONS – Babaock'n'Roll Amor
10 agosto, Deutschlandradio Kultur, Wurfsendung: ES WAR EINMAL – Aschenputtel
5 agosto, Deutschlandradio Kultur, Wurfsendung: THE FRANKENSTEIN SESSIONS – Babaock'n'Roll Amor
3 agosto, Deutschlandradio Kultur, Wurfsendung: ES WAR EINMAL – Die Zikade und die Ameise
28 luglio, Deutschlandradio Kultur, Wurfsendung: THE FRANKENSTEIN SESSIONS – Johann Sebalintillimetallicus
19 luglio, Deutschlandradio Kultur, Wurfsendung: THE FRANKENSTEIN SESSIONS – Beethoyodel Brazileiro
18 luglio, Lucca, Lu.C.C.A.:THE WALBRZYCH NOTEBOOK
17 luglio, Lucca, Lu.C.C.A.:THE WALBRZYCH NOTEBOOK
17 luglio, Atlantic Highlands (NJ, U.S.A.), FilmOneFest: PICCOLI SEGRETI, Musica Contemporanea
16 luglio, Lucca, Lu.C.C.A. (Lucca Center of Contemporary Arts) – Rassegna di video "8 Minuti Dal Sole, 1 Minuto Dalla Luna": THE WALBRZYCH NOTEBOOK
15 luglio, Deutschlandradio Kultur, Wurfsendung: THE FRANKENSTEIN SESSIONS – Rachmanindù Circensis
12 luglio, 10 luglio, Deutschlandradio Kultur, Wurfsendung: ES WAR EINMAL – Dornröschen
10 luglio, Deutschlandradio Kultur, Wurfsendung: ES WAR EINMAL – Aschenputtel
5 luglio, Deutschlandradio Kultur, Wurfsendung: ES WAR EINMAL – Die Zikade und die Ameise
26 giugno, Deutschlandradio Kultur, Wurfsendung: THE FRANKENSTEIN SESSIONS –Salsaragapterus
25 giugno, Deutschlandradio Kultur, Wurfsendung: THE FRANKENSTEIN SESSIONS –Feldmanodontis Pinkfloyderopterix Cubano
21 giugno, Deutschlandradio Kultur, Wurfsendung: ES WAR EINMAL – Aschenputtel
15 giugno, Deutschlandradio Kultur, Wurfsendung: THE FRANKENSTEIN SESSIONS – Babaock'n'Roll Amor
11 giugno, Deutschlandradio Kultur, Sonic Pages
30 maggio, Taipei, Taipei Contemporary Art Center – Urban Nomad Film Festival: THE WALBRZYCH NOTEBOOK
29 maggio, Taipei, Taipei Contemporary Art Center – Urban Nomad Film Festival: THE WALBRZYCH NOTEBOOK
28 maggio, Toronto, Deep Wireless Festival / NAISA Deep Wireless Radio: GEOLOGICA (Conferenza di Götz Naleppa)
28 maggio, Taipei, Taipei Contemporary Art Center – Urban Nomad Film Festival: THE WALBRZYCH NOTEBOOK
28 maggio, Deutschlandradio Kultur, Wurfsendung: THE FRANKENSTEIN SESSIONS – Rachmanindù Circensis
27 maggio, Taipei, Taipei Contemporary Art Center – Urban Nomad Film Festival: THE WALBRZYCH NOTEBOOK
27 maggio, Deutschlandradio Kultur, Wurfsendung: ES WAR EINMAL – Aschenputtel
26 maggio, Taipei, Taipei Contemporary Art Center – Urban Nomad Film Festival: THE WALBRZYCH NOTEBOOK
25 maggio, Taipei, Taipei Contemporary Art Center – Urban Nomad Film Festival: THE WALBRZYCH NOTEBOOK
24 maggio, Taipei, Taipei Contemporary Art Center – Urban Nomad Film Festival: THE WALBRZYCH NOTEBOOK
23 maggio, Taipei, Taipei Contemporary Art Center – Urban Nomad Film Festival: THE WALBRZYCH NOTEBOOK
22 maggio, Taipei, Taipei Contemporary Art Center – Urban Nomad Film Festival: THE WALBRZYCH NOTEBOOK
22 maggio, Santa Barbara (CA, U.S.A.), Samy's Cameras- Santa Barbara Minute Film Festival: PICCOLI SEGRETI
22 maggio, New York, Spectre Gallery – Controversies Of 59 Seconds: Rejected Celebrities: I WAS A MILL (Video)
22 maggio, Deutschlandradio Kultur, Wurfsendung: THE FRANKENSTEIN SESSIONS – Salsaragapterus
21 maggio, Taipei, Taipei Contemporary Art Center – Urban Nomad Film Festival: THE WALBRZYCH NOTEBOOK
20 maggio, Taipei, Taipei Contemporary Art Center – Urban Nomad Film Festival: THE WALBRZYCH NOTEBOOK
19 maggio, Taipei, Taipei Contemporary Art Center – Urban Nomad Film Festival: THE WALBRZYCH NOTEBOOK
18 maggio, Deutschlandradio Kultur, Wurfsendung: THE FRANKENSTEIN SESSIONS – Caledonian Piazzollakepalmer
18 maggio, Taipei, Taipei Contemporary Art Center – Urban Nomad Film Festival: THE WALBRZYCH NOTEBOOK
16 maggio, Deutschlandradio Kultur, Wurfsendung: ES WAR EINMAL – Hänsel und Gretel
17 maggio, Taipei, Taipei Contemporary Art Center – Urban Nomad Film Festival: THE WALBRZYCH NOTEBOOK
16 maggio, Taipei, Taipei Contemporary Art Center – Urban Nomad Film Festival: THE WALBRZYCH NOTEBOOK
15 maggio, Taipei, Taipei Contemporary Art Center – Urban Nomad Film Festival: THE WALBRZYCH NOTEBOOK
14 maggio, Taipei, Taipei Contemporary Art Center – Urban Nomad Film Festival: THE WALBRZYCH NOTEBOOK
9 maggio, New York, Spectre Gallery: 59 Memories About Landscape and People
6 maggio, Deutschlandradio Kultur, Wurfsendung: THE FRANKENSTEIN SESSIONS – Rachmanindù Circensis
2 maggio, Deutschlandradio Kultur, Wurfsendung: THE FRANKENSTEIN SESSIONS –Feldmanodontis Pinkfloyderopterix Cubano
1 maggio, Santa Barbara (CA, U.S.A.), Faulkner Gallery, Santa Barbara Minute Film Festival: PICCOLI SEGRETI (video)
30 aprile, Livorno, Conservatorio Mascagni – Suoni Inauditi / Yoursoundscape: BOLLE
30 aprile, Deutschlandradio Kultur, Wurfsendung: ES WAR EINMAL – Aschenputtel
28 aprile, Deutschlandradio Kultur, Wurfsendung: THE FRANKENSTEIN SESSIONS – Babaock'n'Roll Amor, ES WAR EINMAL – Die kleine Sirene
23 aprile, Deutschlandradio Kultur, Wurfsendung: THE FRANKENSTEIN SESSIONS – Rachmanindù Circensis
22 aprile, Venice (CA, U.S.A.), Electric Lodge; Rooms of Marble and Red Grass (The Shadow Language Electric Guitar Quartet)
16 aprile, Deutschlandradio Kultur, Wurfsendung: THE FRANKENSTEIN SESSIONS – Beethoyodel Brazileiro
15 aprile, Deutschlandradio Kultur, Wurfsendung: THE FRANKENSTEIN SESSIONS – Babaock'n'Roll Amor
13 aprile, Deutschlandradio Kultur, Wurfsendung: THE FRANKENSTEIN SESSIONS – Industrial Chorale from North Carolina
12 aprile, YLE Radio (Finlandia) – Ääniversumi: DIALOGHI
11 aprile, Deutschlandradio Kultur, Wurfsendung: THE FRANKENSTEIN SESSIONS – Salsaragapterus
10 aprile, Santa Maria di Sala (Venezia) – Emergenza Arte: Il Carnevale di Antonio, Sopra Tutto e Tutti
6 aprile, Deutschlandradio Kultur, Wurfsendung: ES WAR EINMAL – Die Zikade und die Ameise
2 aprile, Deutschlandradio Kultur, Wurfsendung: THE FRANKENSTEIN SESSIONS – Turkromanza Religiosa
31 marzo, Deutschlandradio Kultur, Wurfsendung: ES WAR EINMAL – Aschenputtel, THE FRANKENSTEIN SESSIONS – Beethoyodel Brazileiro
29 marzo, Deutschlandradio Kultur, Wurfsendung: THE FRANKENSTEIN SESSIONS – Procolavemariafricanis Tarantellatinus
24 marzo, Deutschlandradio Kultur, Wurfsendung: THE FRANKENSTEIN SESSIONS – Caledonian Piazzollakepalmer
23 marzo, Deutschlandradio Kultur, Wurfsendung: ES WAR EINMAL – Dornröschen
21 marzo, Milano, Cinema Anteo – Festival 5 Giornate: CHIAYI SYMPHONY
21 marzo, Milano, Circolo ARCI Bellezza – Festival 5 Giornate: Una Serata in Famiglia (Gaetano Nenna: clarinetto), THE WALBRZYCH NOTEBOOK
21 marzo, VPRO, Café Sonore – Radiofonics: D.O.C., MEGAPHONO, IL SEGRETO DEL VOLO, THE FRANKENSTEIN SESSIONS, GIOVANNI E GLI ALFABETI, RAP
19 marzo, Deutschlandradio Kultur, Wurfsendung: THE FRANKENSTEIN SESSIONS – Rachmanindù Circensis
19 marzo, Milano, Palazzo Reale – Festival 5 Giornate: Una Serata in Famiglia (Gaetano Nenna: clarinetto)
13 marzo, Deutschlandradio Kultur, Wurfsendung: THE FRANKENSTEIN SESSIONS – Beethoyodel Brazileiro
7 marzo, Roma, Centro Culturale Cinemavvenire – Cinemavvenire Video Festival: CHIAYI SYMPHONY
7 marzo, VPRO, Café Sonore – Radiofonics : GEOLOGICA
7 marzo, O.R.F. Radiokunst Kunstradio: DIALOGHI (estratto)
7 marzo, Deutschlandradio Kultur, Wurfsendung: ES WAR EINMAL – Aschenputtel, THE FRANKENSTEIN SESSIONS – Feldmanodontis Pinkfloyderopterix Cubano
6 marzo, Ceski Rozhlas – Radioatelier Premedition: DIALOGHI (estratto dal CD 20 Years EBU Ars Acustica)
6 marzo, ČRO 3 – Vltava Repubblica Ceca – DIALOGHI
6 marzo, Deutschlandradio Kultur, Wurfsendung: THE FRANKENSTEIN SESSIONS – Turkromanza Religiosa
6 marzo, Roma, Centro Culturale Cinemavvenire – Cinemavvenire Video Festival: THE WALBRZYCH NOTEBOOK
3 marzo, Deutschlandradio Kultur, Wurfsendung: THE FRANKENSTEIN SESSIONS – Caledonian Piazzollakepalmer
1 marzo, Lucca, Auditorium di S. Micheletto – Circolo del Cinema di Lucca – THE WALBRZYCH NOTEBOOK
12 febbraio, Deutschlandradio Kultur, Wurfsendung: THE FRANKENSTEIN SESSIONS – Babaock'n'Roll Amor
10 febbraio, Deutschlandradio Kultur, Wurfsendung: THE FRANKENSTEIN SESSIONS – Johann Sebalintillimetallicus, Rachmanindù Cirensis
9 febbraio, Deutschlandradio Kultur, Wurfsendung: THE FRANKENSTEIN SESSIONS – Caledonian Piazzollakepalmer
7 febbraio, Radio 6, Netherlands, Radiofonics: DIALOGHI (estratto dal CD 20 Years EBU Ars Acustica)
4 febbraio, Deutschlandradio Kultur, Wurfsendung: THE FRANKENSTEIN SESSIONS – Babaock'n'Roll Amor
2 febbraio, VPRO – Cafè Sonore: DIALOGHI (estratto dal CD 20 Years EBU Ars Acustica)
28 gennaio, SR, Monitor – EBU Ars Acustica: DIALOGHI
27 gennaio, SR, Monitor – EBU Ars Acustica: DIALOGHI
26 gennaio, Deutschlandradio Kultur, Wurfsendung: ES WAR EINMAL – Die Kleine Sirene
24 gennaio, Deutschlandradio Kultur, Wurfsendung: THE FRANKENSTEIN SESSIONS – Johann Sebalintillimetallicus
20 gennaio, Deutschlandradio Kultur, Wurfsendung: THE FRANKENSTEIN SESSIONS – Rachmanindù Cirensis
15 gennaio, Deutschlandradio Kultur, Wurfsendung: ES WAR EINMAL – Die Kleine Sirene
13 gennaio, Deutschlandradio Kultur, Wurfsendung: THE FRANKENSTEIN SESSIONS – Rachmanindù Cirensis
5 gennaio, Deutschlandradio Kultur, Wurfsendung: THE FRANKENSTEIN SESSIONS – Johann Sebalintillimetallicus
4 gennaio, Deutschlandradio Kultur, Wurfsendung: ES WAR EINMAL – Die Kleine Sirene
3 gennaio, Deutschlandradio Kultur, Wurfsendung: THE FRANKENSTEIN SESSIONS –Scarlattiblues Africhinensis
1 gennaio, Deutschlandradio Kultur, Wurfsendung: ES WAR EINMAL – Aschenputtel