2002/2003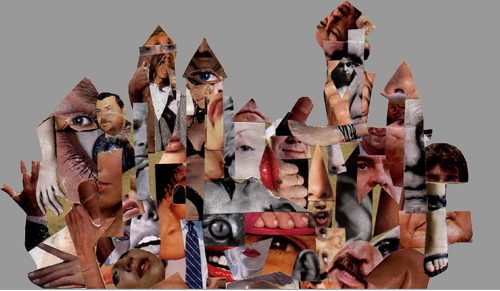 A group of people builds a city on a desert upland. They work day and night, until one day the work is over. The city stands, its towers sparkle in the distance. But a tribe arrives from the neighbourhood and conquers the city, destroying a large part of it. As time goes by, the survivors learn to live together with the invadors. The two peoples mix, and step by step build a new city on the ruins of the previous one… After hard work, the new city is ready. But a new tribe of invadors comes from far lands… Fate is done. The process repeats endlessly. Every new city is destroyed and rebuilt on the ruins of the previous ones; the different styles mix. One day, in a more stable period of peace, the city of cities is ready; it is the addition of hundreds of colonizations and architectures through ages. But only few people want to live inside, because it is too complex. .The majority comes back to live in the desert.
The city becomes a big monument in the desert; somebody goes to visit it. on holiday.
MASTERPIECE is a metaphor about the genesis and the growing up of a work of art; it develops along the composing process of a piece which summarizes and consolidates fragments from different historical styles rebuilding them in new forms in accordance with modern aesthetical exigences, mixing classic and profane forms, confusing primitive with technologic.
The work illustrates the process of de-construction of languages and the approach to the avantguardes, underlining ironically the function of art in our society.
S.G. 2002/2003
Production: DeutschlandRadio Berlin 2003
Executive Producer: Götz Naleppa
Text, music and direction: Stefano Giannotti
German translation and narrator: Andreas F. Müller
Other voices: Choi Ahoi Kyung-hwa, Iouri Leidermann, Alan Cherchessov, Tsvetlana Cherchessova, Georgev Cherchessov, Kristyna Cherchessova, Regine Bartsch, Matilde Giannotti.
Stefano Giannotti: whistling, pots, harmonica, banjo, toy piano, samplings, elaborations and treatments.
© DeutschlandRadio Berlin 2003
Dur. 50'30"