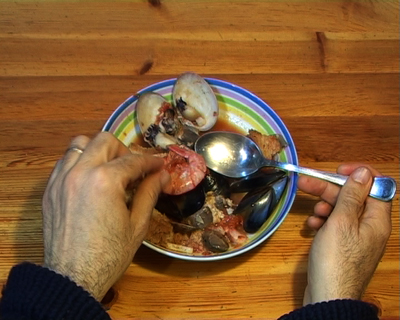 Part I: Pictures from the Daily Gardens
VIDEOLOGHI (Pictures From Daily Gardens) can be interpreted like a series of sights of daily life, a representation of people, landscape, food, family, survival; all these themes are expressed through a collection of short movies based on image and sound associations, sometimes free (the first thing which comes to my mind) sometimes combined in a more logical way, in both cases I work on their power of evoking archetypes. This praxis (which I call sound-metaphors system) is a real method of composition which I have discovered and used in many of my performances and radio-works, like for example IL TEMPO CAMBIA I & II (1997/2003) and DIALOGHI (2008); VIDEOLOGHI wants to extend my idea of radio to the field of video and visual arts, thus generating a sort of monument of the present time (painted like Picasso or Ernst).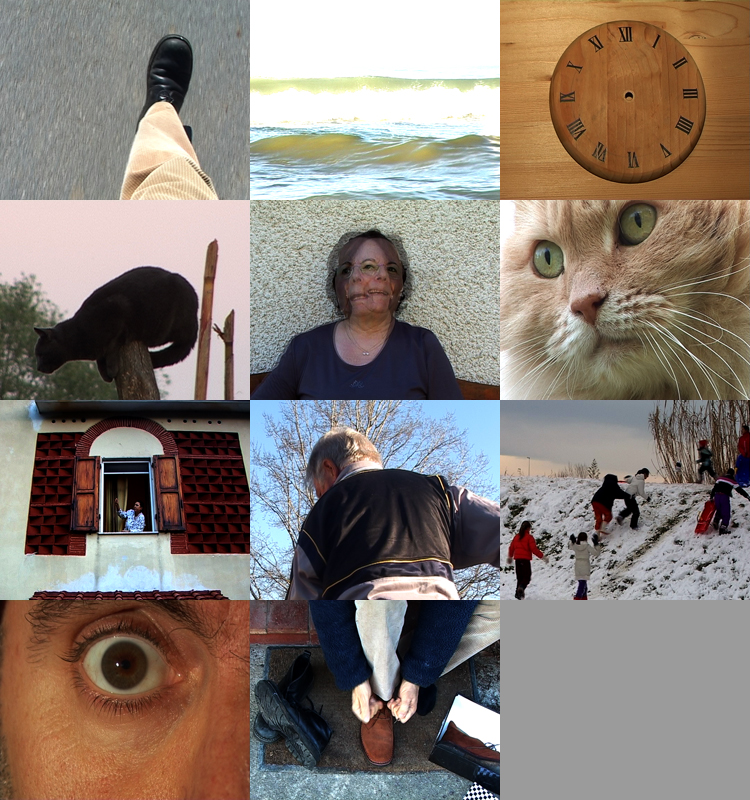 The video is divided into 11 short sections:
Steps: my shoes in POV shot, while walking on a countryside road, synchronized with some notes of an old piano out of tune
Lands: my foot-steps still in POV shot, moving one after the other on many different environments; a step on the grass, the next one on the soil, and so on, accompanied by clusters played on the old piano; at the end they reach a door-mat, a hand opens the door; sea sounds comment a table with a fish soup; two hands still in POV shot pick up shells and shrimps from the plate and take them towards the camera (the mouth)
Waves: a fisherman on the seashore, some helicopters in the sky, seawaves.
Beats: a wooden handless clock fades in and out on a wooden table with sounds of metal;  a gong is played but it produces sounds of explosions.
Targets: a black cat in equilibrium on a stick observes something below and prepares itself to attack; a mouse falls dead on the mat.
Mothers: a slow motion sequence; my mother splits into two ghostly images overlapped
Spells: a clock sounds; the black cat on the stick changes itself into a beautiful beige angora at midnight
Mornings birds sounds; my wife opens the windows at morning; a dark sky full of clouds, traffic sounds and helicopters convince her to close the windows and come back to bed
Clods: my father works in the garden; every action is synchronized in detail with notes played on the old piano
Slides: children play on the snow. Sounds of violin comment their performances.
Moons: a surrealistic nocturnal game amongst circular shapes; my eye changes into the moon, the moon changes into a fish bowl, the fish bowl into a lamp, the lamp into a CD, a vinyl, a bicycle wheel, a pendulum, a moka, a cup of coffee, the moon and the lamp again, my mouth launching a kiss. The music is made of natural sounds and objects.
Shoes: the old shoes abandoned on the mat; I wear new shoes and go away. The old piano plays a carillon tune.
The total length is 21'50" but since the film is modular, it's possible to create several versions of different lengths.
Direction and music: Stefano Giannotti
Interpreters: Stefano Giannotti, Roberta Da Porto, Giampiero Giannotti, Matilde, Rachele, Elisabetta, Sara, Ginevra, Aurora, Emiliano, Valentino.
Produced da Stefano Giannotti between February 2011 and March 2012
© Copyrights by Stefano Giannotti / S.I.A.E. 2012
---