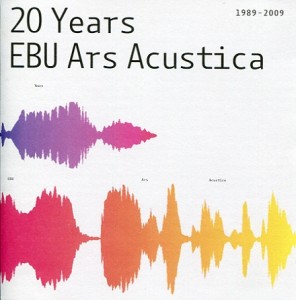 Composizioni di: Alessandro Bosetti, Escoitar.org, Arsenije Jovanovic, Els Viaene, Tomáš Pálka, Sofia Kamayianni, José Iges & Concha Jerez, Hanna Hartman, Dmitriy Nikolaev, Stefano Giannotti (DIALOGHI – Excerpt) , Anton Bruhin, Juraj Ďuriš, ProTon Sonic Art,
Ars Acustica is a group of producers and editors of radio art programs in national-public broadcasting corporations in Europe. Founded in 1989 within the European Broadcasting Union EBU, the Ars Acustica group aims at initiating and realising projects, promoting radio art, exchanging productions between European radios, and eventually open up a space for debate on the future of radio, of art and of radio art as such.
Leggi il resto dell'articolo
---
Musiche per clarinetto solo di Guido Arbonelli, Eran El-Bar, Stefano Giannotti (RAP SECONDO), Alberto Bustos, Șerban Nichifor, León Biriotti, Ofer Ben-Amots, Fabrizio Festa, Vladimir Zubitsk, Thomas Briccetti , Gianluca Cangemi, Salvatore Enrico Failla, Alessandra Salvati, Antonio D'Antò, Marino Baratello, Carey Nutman,  Jay Vosk, Steven L. Rosenhaus, Peter Machajdik, Augusto Valente, Dimitri Nicolau, Wolfgang Seierl, Luca Ortelli,  Davide Zannoni, Raoul De Smet, Ken Steen, Jean-Luc Darbellay, Paolo Rosato,  Bruno Strobl, Sergio Pallante, Orlando Jacinto Garcia, Antonio Poce, Dinu Ghezzo, Athanasia Tzanou, Mauro Castellano,  Jorge Martìnez-Ulloa,  Mario Frendo, Giuseppe Lucca, Roberta Silvestrini, Gian Piero Cartocci, Vladimir Djambazov,  Julian Martinez Fernandez, Robert Carl, Ivo Nilsson, Luca Belcastro, Hope Lee, Ludo Geloen, David Macbride.