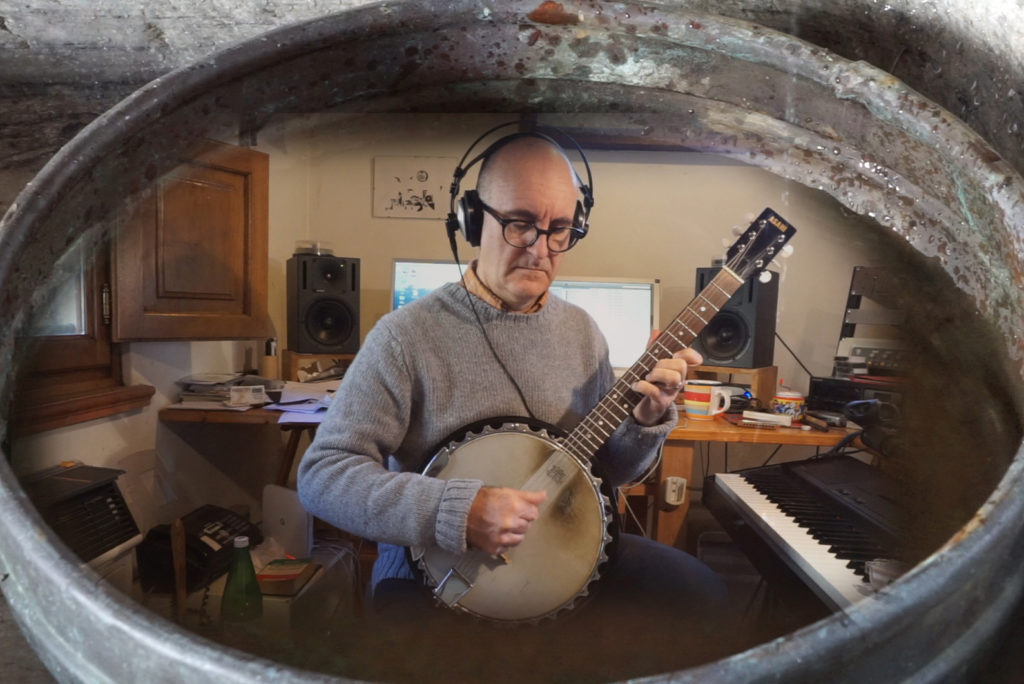 INSTANT SCAPES #001-#076
Video work for social networks
41:00
LA MAPPA INFALLIBILE
Toy-zither, harmonicas, melodica, tubular bells, hang-drum, teponatzli, percussion, banjo, ukulele, ocarina, slide flute.
For the theatrical play LA MAPPA INFALLIBILE
Production: Giallomare Minimalteatro, drammaturgy: Renzo Boldrini, images: Daria Palotti, music: Stefano Giannotti
Dur: circa 35 min.
MENÙ DI PESCE (2021)
One-Man-Band: accordion, toy-piano, metallophone, toy-xilophone, bass-drum, hi-hat, cow-bells, whistles, banjo, melodica, ukulele.
– Pesce Fritto
– L'Acciuga Marinata
– L'Aringa Natalizia
– Il Calamaro Gratinato
– Cacciucco
Dur. about 15:00
BOSCO MISTO (2005-2021)
Electric guitar Orchestra, electronics
Dur. 22:23
ANIMAL FARM (2021)
Radio-piece for Deutschlandradio Kultur – Wurfsendung
For harmonica, accordion, piano, guitar, metallophone, violin, Indian organ, electric guitar, banjo and double-bass
– The Chickens
– The Dog
– The Monkey
– The Cat
– The Nightingale
– The Donkey
– The Lambs
– The Wild Boar
– The Cow
– The Young and the Old Seal
Dur. 6 min
MONDI POSSIBILI – Trailer#1
Video
Dur. 0:45
MONDI POSSIBILI – Trailer#2
Video
Dur. 2:31

MONDI POSSIBILI – Trailer#3
Video
Dur. 2:52

MONDI POSSIBILI (2018-2021)
Radio-piece for SWR2
for voices, Ondes Martenot, gamba, harpsichord and drums
Dur. 52 min.
---
4 maggio, SWR2 – Ars Acustica: MONDI POSSIBILI
30 maggio, NoiTV – Parlando con Stefano Giannotti (frammenti video di repertorio): QUANDO LA SERA  –  NEGLIBOR – CAMMINAVO – CADUTA MASSI – PER MANO CONDUCO MATILDE  – TURNI (OTEME) – EARTH CARDS #3 – PRIME ALI – STUDIES FOR PORTABLE CASSETTE PLAYER (Stefano Giannotti)
15 luglio, Matraia, Aia Saponati – Tempi Moderni:   MENU' DI PESCE (ALDES/Roberto Castello – LE SEPPIE E LA PASIONARIA)
16 luglio, Marlia, Corte Giusti – Tempi Moderni:   MENU' DI PESCE (ALDES/Roberto Castello – LE SEPPIE E LA PASIONARIA)
22 luglio, San Giusto di Compito – Tempi Moderni:   MENU' DI PESCE (ALDES/Roberto Castello – LE SEPPIE E LA PASIONARIA)
22 luglio, Badia di Cantignano, Cortaccia – Tempi Moderni:   MENU' DI PESCE (ALDES/Roberto Castello – LE SEPPIE E LA PASIONARIA)
23 luglio, Segromiglo in Piano – Tempi Moderni:   MENU' DI PESCE (ALDES/Roberto Castello – LE SEPPIE E LA PASIONARIA)
23 luglio, San Ginese, Borgo dei Pierini – Tempi Moderni:   MENU' DI PESCE (ALDES/Roberto Castello – LE SEPPIE E LA PASIONARIA)
29 luglio, Capannori, Palazzo Pera – Tempi Moderni:   MENU' DI PESCE (ALDES/Roberto Castello – LE SEPPIE E LA PASIONARIA)
29 luglio, Lammari, Corte Cristo – Tempi Moderni:   MENU' DI PESCE (ALDES/Roberto Castello – LE SEPPIE E LA PASIONARIA)
30 luglio, Santa Margherita – Tempi Moderni:   MENU' DI PESCE (ALDES/Roberto Castello – LE SEPPIE E LA PASIONARIA)
1 agosto, Montappone – PAJE/ACQUA2O – MONDI POSSIBILI-Trailer#1, PESCE FRITTO, SONO INVISIBILE, L'ACCIUGA MARINATA, LANDSCAPE WITH INTERFERENCES, PER MANO CONDUCO MATILDE, MUSICA CONTEMPORANEA, CACCIUCCO