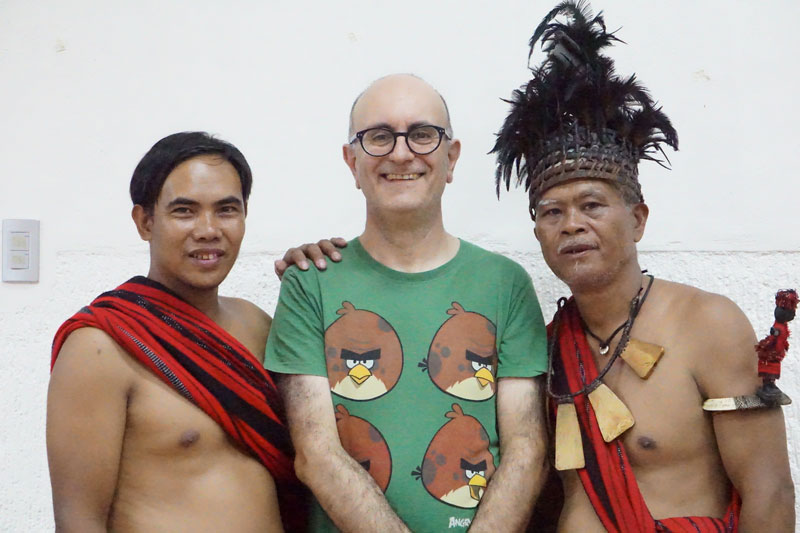 STEFANO GIANNOTTI (1963)
Composer, author, director, guitarist and performer. He studied  composition with Pietro Rigacci and he was the assistant of Alvin Curran in "Crystal Psalms" and "Tufo Muto". Between 1983 and 1990 he performed in several European countries with the chamber music group "Trio Chitarristico Lucchese". In 1997 he started a collaboration with the Italian coreographer Roberto Castello. Between 1998 and 1999, he lived in Berlin as guest of DAAD (German Academic Exchange Program). In the year 2000 he has been guest of the Künstlerhaus Schloss Wiepersdorf with a Stipend of the Ministerium of Brandeburg. In the year 2002 he has been invited in Worpswede with a stipend of the Ministerium of the Niedersachsen and he has won the Karl-Sczuka-Preis (SWR, Baden-Baden) with his work IL TEMPO CAMBIA. In the year 2007 he has got for the second time the Karl-Sczuka-Preis for his radio-piece GEOLOGICA
His repertoire ranges from performance, radio-art, dance theatre to chamber music, orchestral scores and songs.
Landscape, memory, life cycles, voices of people, languages; these are some of the main themes developed in Giannotti's work.
His compositions have been performed in: Festival Internazionale Teatro d'Arte (Narni 1989), G.A.M.O. (Florence 1989), Stichting Logos (Gent 1991 and 1999),"Macrophon '91 and '94" (Wroclaw), "Wings of Sound" (Helsinki 1993), "Sounding Islands" (Faroer Islands 1995), "Musica per le Stelle" (Costa degli Etruschi 1996, 1997, 1999 and 2000), "Strade Contemporanee" (Lucca 1997), "Neue Italienische Musikszene" (Berlin 1998), Ballhaus Naunynstrasse (Berlin 1999), Kuenstlerhaus Schloss Wiepersdorf (Wiepersdorf 2000), Museum of Fine Arts (Philadelphia, 2000),  Children's Future (Yokohama, 2001), ISCM World Music Days (Hong Kong 2002), Donaueschinger Musiktage (2002), Maerz Musik Festival (2003), Voix Nouvelles (2003), Teatro dell'Orologio (Roma 2004), Videominuto 2004 e 2006 (Prato), New York Film And Video Festival 2005, ISCM Festival (Stuttgart, 2006), Festival Archipel (Geneve 2007), Urban Nomads (Taipei 2007-2008-2009-2010), Donaueschinger Musiktage (2007), Cucalorus Film Festival 2007, 2008 and 2010 (Willmington – NC) Zero Film Festival (Los Angeles 2008), Art's Birthsday 2009 (Karlsruhe), Cineavvennire Video Festival (Roma 2010), Milano 5 Giornate per la Nuova Musica (2010), Futura Festival (Crest – Fr., 2010), Stichting Worm (Rotterdam, 2015), Lucca Film Festival (2012 – 2016), etc.
Since 2001 he has held training courses on the history of experimental music in our century with a particular attention to the new languages of contamination between music, radio, theatre.
Recently he has started developing video-projects (video-art, short movies).
In 2010 he has formed the band OTEME – Osservatorio delle Terre Emerse, a mixed ensemble who performs his songs and chamber music.
Productions and collaborations with: RAI Radio 1, RAI Radio 3, Polskie Radio, Magyar Radio, O.R.F., Radio France Culture, Danish Radio, WDR Koeln, SFB, Deutschland-Radio Berlin, Saarlaendicher Rundfunk, Suedwestdeutsch Rundfunk, Australian Broadcasting Company.
Other collaborations with: Peter Ablinger (D), Guido Arbonelli (I), Michael Augustin (D), Thomas Bloch (F), Roberto Castello (I), Enzo Fabiani String Quartet (SLO), Hugo Hamilton (IRL), Peter Machajdìk (SK), Andreas F. Mueller (D), Harmonia Ensemble (I), Alan Tschertschessow (RUS), Yuan Shun (China), Birgit Ramsauer, Wieslaw Saniewski, Fabrizio Desideri, Agata Zubel, etc.
International Prizes and Grants:
2018 – Composer Fellowship at the Banaue International Composition Competition (Philippines)
2014 – Third Prize at thel Grand Prix Nova (Bucarest) for the radio piece  AMORE MIO – Love Songs und anderer Kram (SWR, 2012)
2013 – Nomination at the Prix Phonurgia Nova (Parigi) for the radio piece AMORE MIO – Love Songs und anderer Kram (SWR, 2012)
2013 – Nomination and shortlist at the Prix Italia 2013 for the radio piece AMORE MIO – Love Songs und anderer Kram (SWR, 2012)
2009 – Nomination of the Prix Italia 2009 for the radio piece DIALOGHI (SWR 2008)
2008 – Katherine Knight Award at the Earth Vision International Environmental Film Festival (Santa Cruz, California) for his film CHIAYI SYMPHONY
2007 – Karl-Sczuka-Preis for his composition GEOLOGICA
2006 – "Artist-In-Residence" in the Chiayi County (Taiwan) for the Tropic Of Cancer 2006, Environmental Art Project
2004 – Special mention of the jury in the Prix Italia 2004 for IL TEMPO CAMBIA (Part II).
2002 – Karl-Sczuka-Preis (SWR, Baden-Baden) for his composition IL TEMPO CAMBIA (Part I).
2002 – Artist-In-Residence in Worpswede (Deutschland)
2000 – 1st Prize in the International Glassharmonica Music Festival, and "Prix spécial de l'humor", Philadelphia (U.S.A.) won for the composition D.O.C. (1999), for glassharmonica and tape.
2000 – Artist-In-Residence at Künstlerhaus Schloss Wiepersdorf (Ministerium fuer Wissenschaft, Forschung und Kultur, Land Brandenburg)
1998/99 – Artist-In-Residence in Berlin (DAAD Berliner Künstlerprogramm)
1997 – 3rd Prize in the International Competition "Music and Play"- Robert Murray Shafer, Poznan, won for L'ISOLA CHE C'ERA (1996) for children's voices, bass tuba and live-electronics.
1994/95 – Prix Ars Acustica International, WDR Köln, won for VARIAZIONI SU VOLVER (1989/94), a soundscape on the voice of Carlos Gardel
1991 – International Prize of Radio Art Macrophon'91, Polskie Radio, won for RITRATTO DI PAESE (1989/90), a sound documentary on the elders of a little Italian country village.
---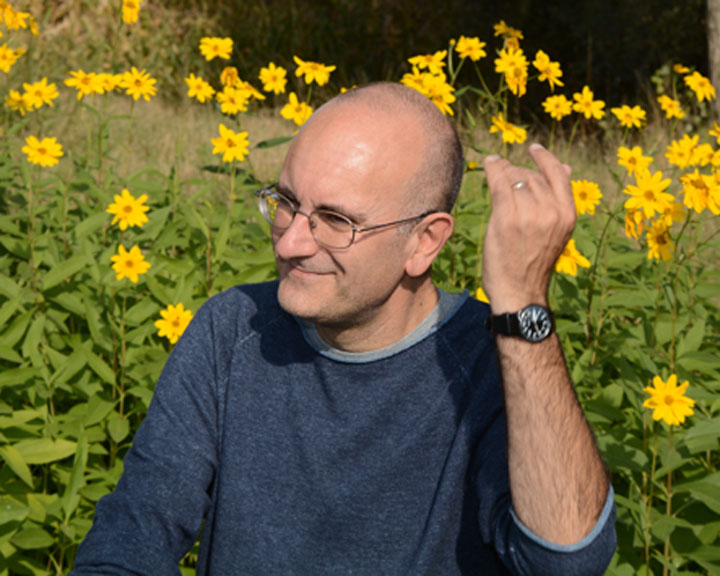 Photo by Claudio Bianchi / Marta Paganucci 2014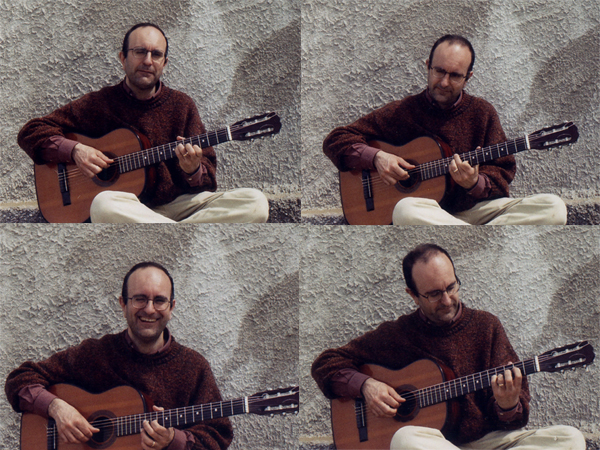 Photo by Mariola Krajczewska 2003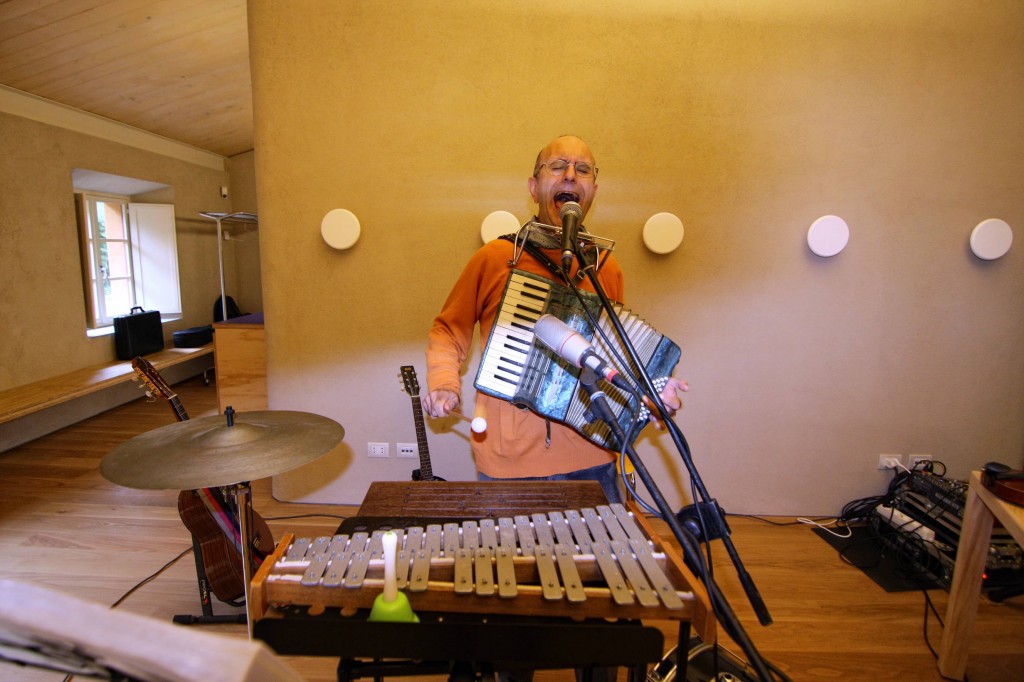 Photo by Daniela Cappello 2012 at the SPE, Tenuta dello Scompiglio