Stefano Giannotti / Salvo Lazzara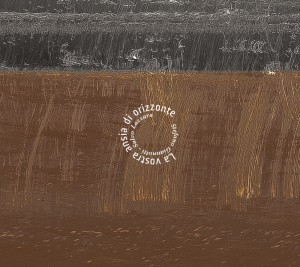 LA VOSTRA ANSIA DI ORIZZONTE (Your Anxiety of Horizon) was born partly as a game, partly as a challenge.
Salvo Lazzara and Stefano Giannotti, two artists who are poles apart, but who share strong common interests in music and literature, meet between writing and improvisation, electronic landscapes and acoustic creations. They generate a series of stories which are a bit off key and not very reassuring, experiments with poetry and sound, almost micro-radio-dramas, between ambient and free jazz, singer-songwriter songs and cultured avant-garde.
An unpredictable work (even for the two authors themselves) from the first track, L'ALBA DI UNA ROSA (The Dawn of a Rose) is a sort of leitmotiv of the entire work.
Price: 15 Euro
Click here to order the CD
---
1. L'ALBA DI UNA ROSA (Video-preview)


2. ONDE DI TERRA (Video-preview)

3. ROSALBA (Video-preview)

4. CELESTE LAGUNA (Video-preview)

5. LA VOSTRA ANSIA DI ORIZZONTE (Video-preview)

6. L'ARIA D'ORO (Video-preview)

7. DUNE D'ACQUA I
8. DUNE D'ACQUA II
OFFICIAL VIDEO-CLIP

9. MA TU DOV'ERI?
Clip #1

Clip #2

---
Salvo Lazzara: guitars, didgeridoo, percussion, programming
Stefano Giannotti: voice, banjo, ukulele, harmonica, bells, piano, programming
Luca Pietropaoli: trumpet
Marco Fagioli: trombone
Lucia Pera: voice
Strings of the Sinfonia Music School of Lucca:
Angela Landi, Sara Fanucci, Diana Gaci Scaletti, Nicoletta Olivati, Sofia Cesaretti, Gianluca Chelini, Andrea del Gratta: violins
Executive producers: Stefano Giannotti and Salvo Lazzara
Art work by Tommaso Tregnaghi and Stefano Giannotti
Photos on the digipack by Chris Friel
Photos on the booklet by Stefano Giannotti (taken from the video DUNE D'ACQUA) – Portraits of Zofia and Mariola Krajczewska
Translations: Bonnie Eldred