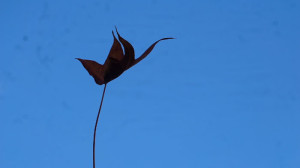 A brown leaf hanging from an invisible cobweb dances in a clear blue sky. Clouds slowly appear.
The music (from the CD THE BODY IN THE DREAM by OTEME) unfolds with a series of polytonal chords played with wind instruments (brown) in combination and alternating with harp, vibraphone, glockenspiel, piano and synth (blue).
The drums play a drum'n'bass composition that serves as a connection between sky and land. This is what Messiaen or Stravinsky would have written if they had known 1990s club music.
Direction, music, video camera: Stefano Giannotti
Produced between May 2017 and January 2018
Length 3'35"