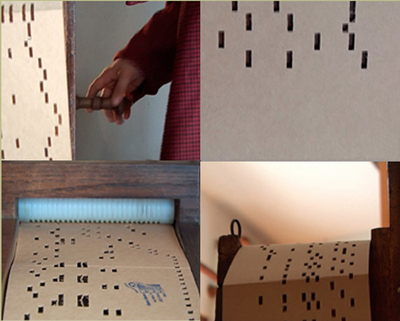 A thunder-rain gives birth to a river. The river slowly reaches the sea and generates the thunder-rain again. A clock is beating. Somebody approaches and damages the clock which starts beating irregularly. Since this exact moment the water-cycle is disturbed as all other ideas of life cycles. One day in the life of a lonely modern man (awakening in the morning with digital clocks and rushing in the city) and one day in the life of a group of country-workers (whose personal time is signed by a gentle slow motion) whirl around a sort of acoustic calendar where people from different languages sing and tell stories, dates and events. At the end, just when the general idea of time seems to be lost, we hear a little 2 year old girl telling the story of Cinderella;.an old woman is raving while a tape recorder winding and rewinding shows some time memories; the president wishing a happy new year to the audience, a song of spring, the thunder-rain. Time loops and gets confused.
 CALENDARIO is an opera on the theme of time cycles and man's hand violating the natural order. The work develops on the idea that a destroyed clock generates disorder into the landscape and then in life cycles. The five sections of the composition ("Time dreamt", "Time Changed", "Time Organized", "Time Lost", and "Time Refound") are sorts of pictures of mankind's time representation. Their different "sonic colour" is underlined by the sounds of a barrel organ (playing music originally composed by the author); Waltze and simple street-melodies change into streams of sounds, broken clocks, and city chaos, and then melodies again, like the soundtrack of a silent movie. The work has been composed and produced between 2000 and 2002.
Project, direction and music: Stefano Giannotti, between October 2000 and April 2002.
First broadcast: june, the 7th, 2002, DeutschlandRadio Berlin
© Stefano Giannotti / S.I.A.E.
Barrel-organ: Alberto Bertolino
Perforated-card builder: Marco Gianotto
Voice: Andreas Friederich Müller
Other voices: Robyn Ravlich, Mariola Krajczewska, Matilde Giannotti, Annalisa Pace, Martin Wilkening, Pirkku Koskinen, Johanna Strohe, Mohsen Yousefi, Maria Soledad, Luce Simini
Dur.:48'50"