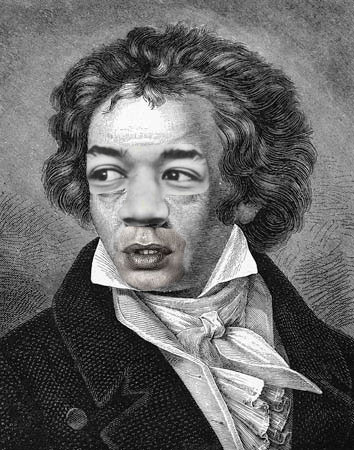 Monsters in the age of globalization
The FRANKENSTEIN SESSIONS is a collection of very short pieces, ranging from 26 to 43 seconds, produced for the Deutschlandradio Kultur program WURFSENDUNG. This means that the single miniatures are broadcasted at random, and their function is to interrupt the daily palinsest, in other words to disturb.
And what is better than a monster to disturb the daily stillness?
My monsters are made up of several pieces of corpses assembled in odd and scary music bodies. Listen to a Salsaragapterus or to a Caledonian Piazzollakepalmer (even their unpronounceable names are frightening) and be sure that you would prefer never to be born.
Arms and legs from Baroque, noses from Bolivian regions, breasts from Brazil, heavy-metal hairs. Classic eyes, demodè teeth, there's a long list.
But let me please introduce to you my monsters:
1. Scarlattiblues Africhinensis A piano counterpoint in Scarlatti's style is enriched by a blues harmonica, a Chinese voice (not original, a copy) an Asian zither and African drums. Dur. 38"
2. Industrial Chorale from North Carolina A chorale for mellotron (dead tenors) and female voices (sopranos alive) deals with a rhythmic-box. Banjo and violin imitate old good music of the South Dur. 42"
3. Salsaragapterus An Indian raga, just annoyed, invites a Latin melody to have fun together Dur. 42"
4. Babaock´n´Roll Amor A classic romanza, a rock'n'roll riff and some African voices create…. something Dur. 38"
5. Feldmanodontis Pinkfloyderopterix Cubano A monster with a very complex personality as its name makes us understand. There are also small fragments from other corpses, but it was impossible at that time to include them in its name. Dur. 34"
6. Beethoyodel Brazileiro There are enough sure philological sources to confirm that this is exactly what Beethoven wanted for one of his masterpieces, but he was so scared that he never dared (until today). Dur. 26"
7. Procolavemariafricanis Tarantellatinus A religious piece. An Ave Maria strongly influences by tarantellas, Procol Harum and African kalimba rhythms Dur. 27"
8. Johann Sebalintillimetallicus A sort of multi-kulti monster born from a stratification of here and there. J.S.B. meets gamelan, Illimani (the highest top in Andes), and a Toscan heavy-metal player. Dur. 42"
9. Caledonian Piazzollakepalmer Another complex character not easy to illustrate (because the title is just clear). Dur. 43"
10. Turkromanza Religiosa Another religious monster showing that sacre and profane are two faces of the same medal. A romantic song in the style of Roma interferes with a Gregorian chant. A Turkish melody doesn't really fit properly, but there weren't enough corpses left to cut. Dur. 38"
11. Rachmanindù Circensis Just for a happy end the last monster is a circus creature strongly influenced by romantic piano literature and Indian culture. Dur. 34"
Concept, music and lyrics: Stefano Giannotti
Production: Deutschlandradio Kultur – Wurfsendung, July 2009
Redaktion: Julia Tieke
Sound engineers: Dirk Schwibbert at Mainland Media GmbH, Berlin
and Stefano Giannotti in his home private studio.
Katia Guedes: soprano
Julia Prigge: violin
Stefano Giannotti: all other instruments and samplings
Total length: 6'49"